When it comes to colour, we're all about more than just getting the paint job done. We want you (yes, you!) to explore the world of colour, be inspired by bold shades and most importantly to find joy in the colours you choose to bring into your home. After all, colours have been said to have an effect on your moods and feelings.
"Every colour has a unique energy which can affect how we feel about our environment and ourselves. It can make us feel happy or sad, energized or relaxed." – Anne Roselt, Colour Therapist
Bearing that in mind, we get that not everyone is comfortable making all four walls colourful, and sometimes all you're looking for is a quick, simple update that creates an instant mood boost. It all comes down to the colours we've carefully curated to evoke your most positive emotions. That's where the fifth wall comes in. Ceilings are sometimes dubbed the 'fifth wall', which makes sense. They're (most likely) the first thing you look at when you wake up in the morning and the last thing you see before you go to sleep – so why is it that nobody ever really talks about picking the perfect ceiling colour?
"Painting your ceiling may seem like a bold or serious undertaking but this shouldn't deter you. See your ceiling as an effective way to bring sophistication and elevation into your space." – Simply Colour Founder Meg Shave
Although uncommon, there are some real design benefits to painting your ceiling a colour other than the predictable white. Which is not to say that a classic white ceiling doesn't have its place in the interior world. If this look is more to your liking, we recommend using our VOC-free standard white ceiling paint, designed specifically for the perfect interior finish. But if you're willing to make bolder colour choices, any one of our wall paints (in both premium or sheen finishes) can be used on your ceilings too.
Some interior decorators believe that the right ceiling colour can make a space feel larger, help to balance the colour scheme in a room, and add an elevated level of design to your home. Decorative ceilings can be an unexpected surprise, an interesting focal point or the perfect opportunity to bring playful colours into your space.
Colour and design options are endless and depend on how creative (and colourful) you're willing to be. For instance, the colour of your ceiling can match the walls or stand out – one approach will have a different effect to the other. Colour choice is also important. Baby blues will make a ceiling feel as open and expansive as the sky, while softer neutrals make for a cosy, calming space. Needless to say, there's nothing to lose by painting your ceiling…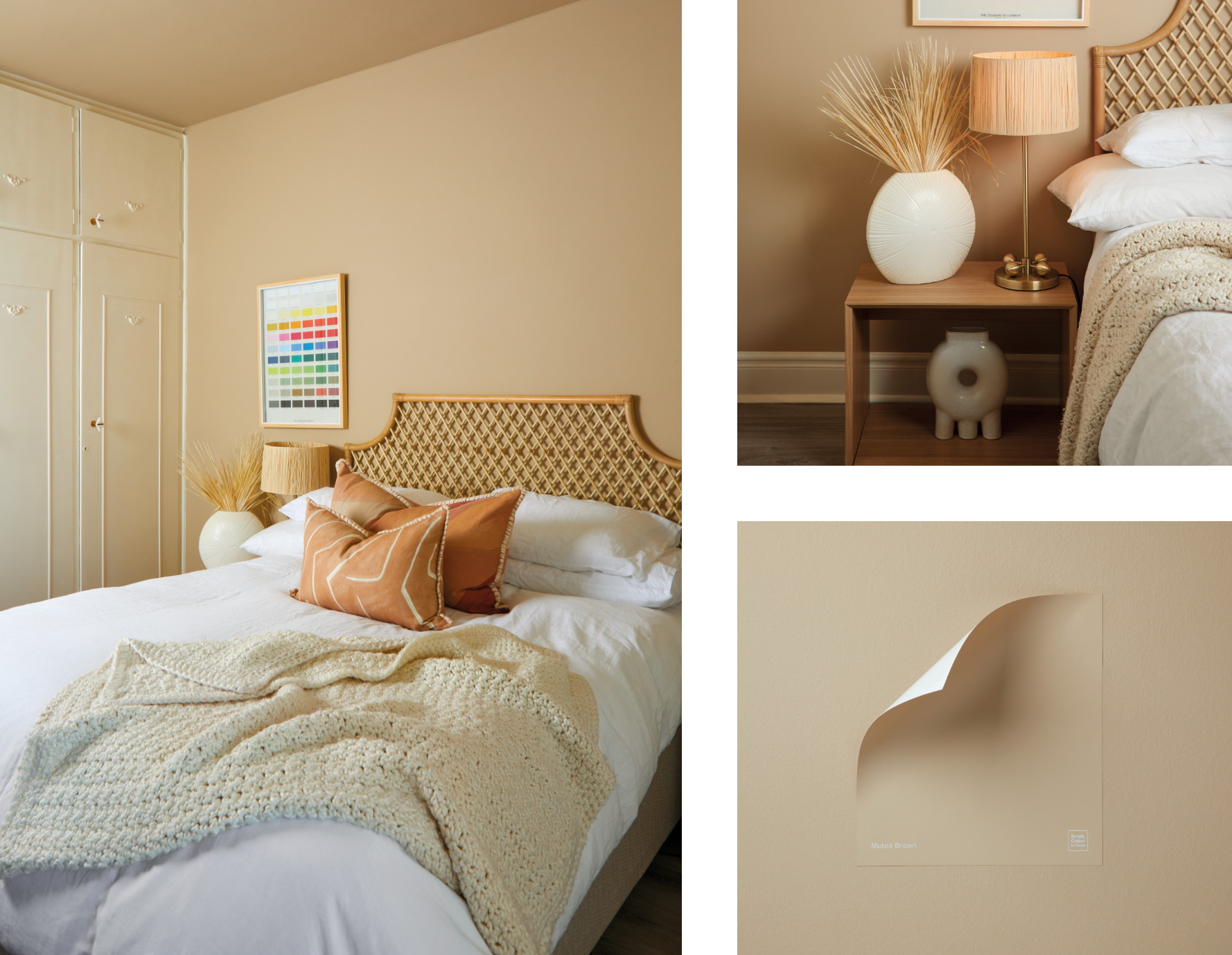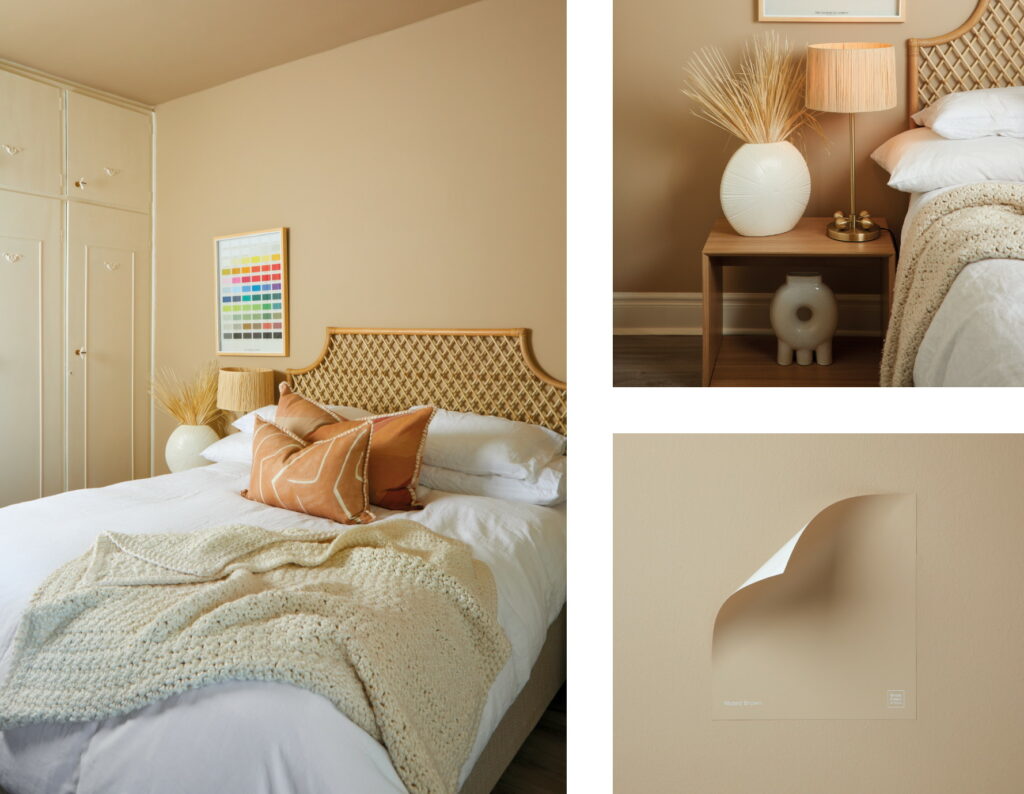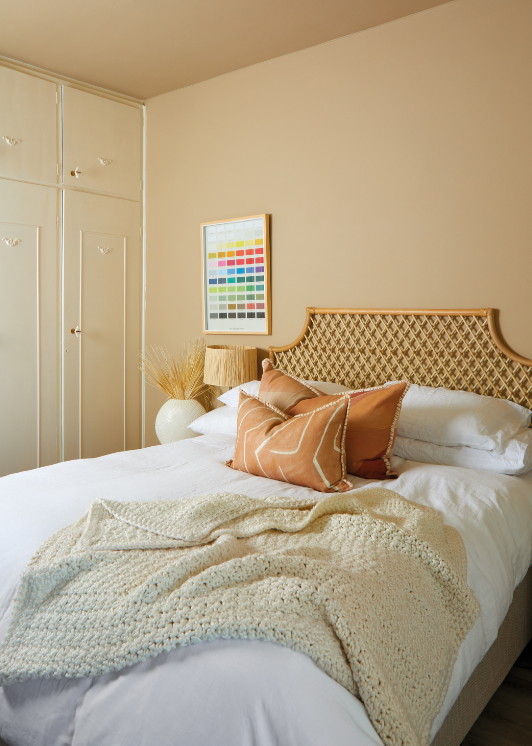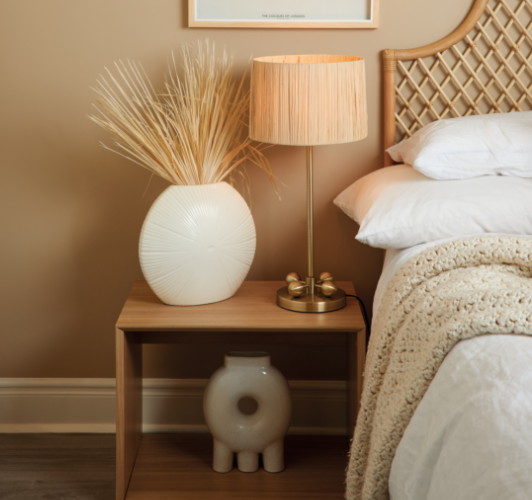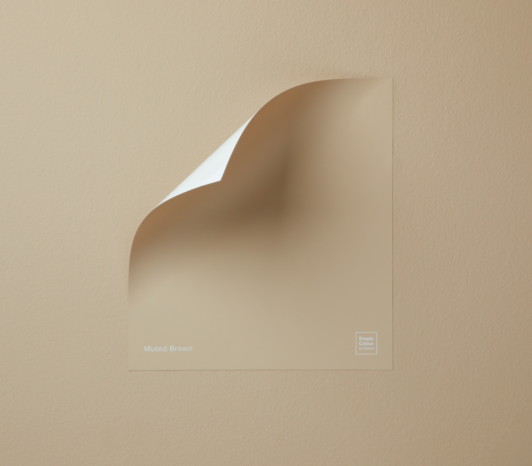 A cosy cocoon
This neutral bedroom makes the most of Muted Brown (a firm favourite from our neutral palette). The same soft shade is used on the walls and ceiling to create a cosy, cohesive feel – exactly what you'd hope for in a bedroom. There's no stark white ceiling competing with the walls or closing in the space, just one continuous spread of colour – perfectly complemented by Sandy White cupboards. Using this technique makes the space feel spacious and comforting all at once, and we're all for it.
"By painting your walls and ceiling the same shade you create a room that has a lot of depth and warmth. By using continuous colour you create total tranquillity while still allowing the room to feel elevated." – Simply Colour Founder Meg Shave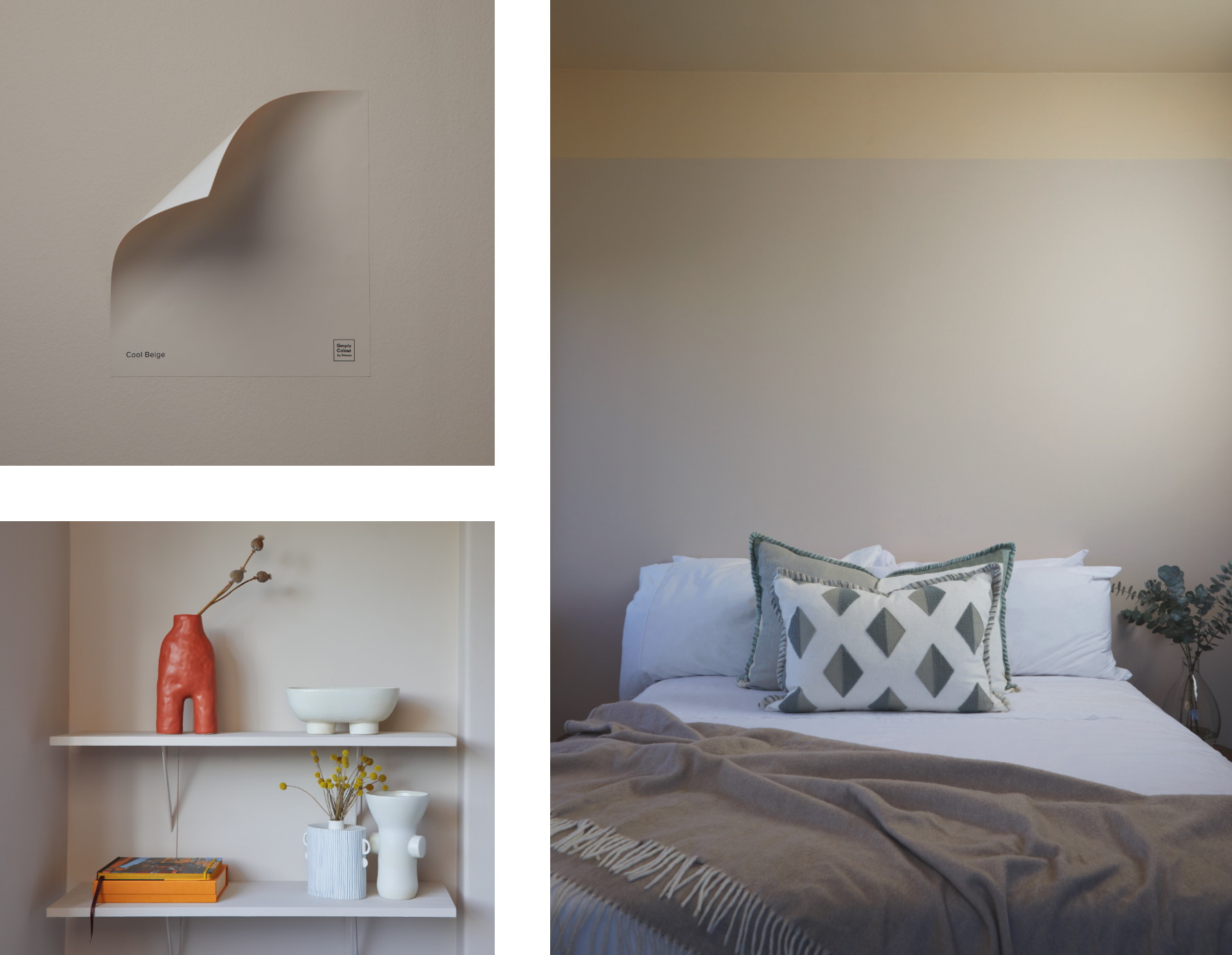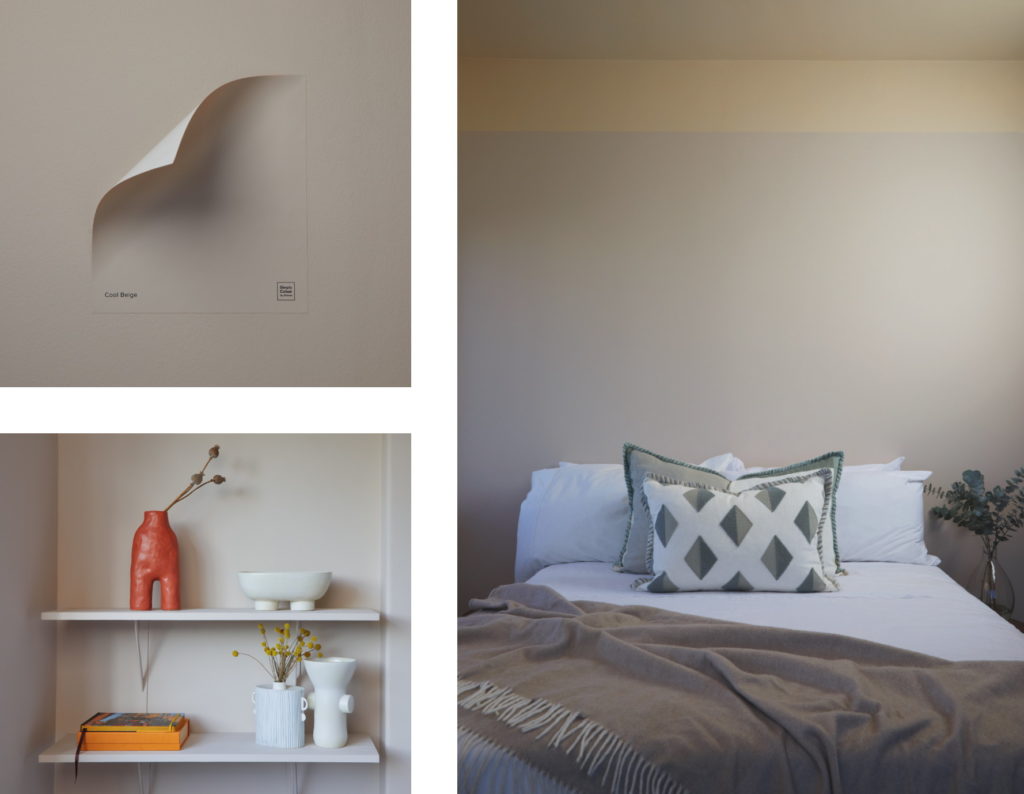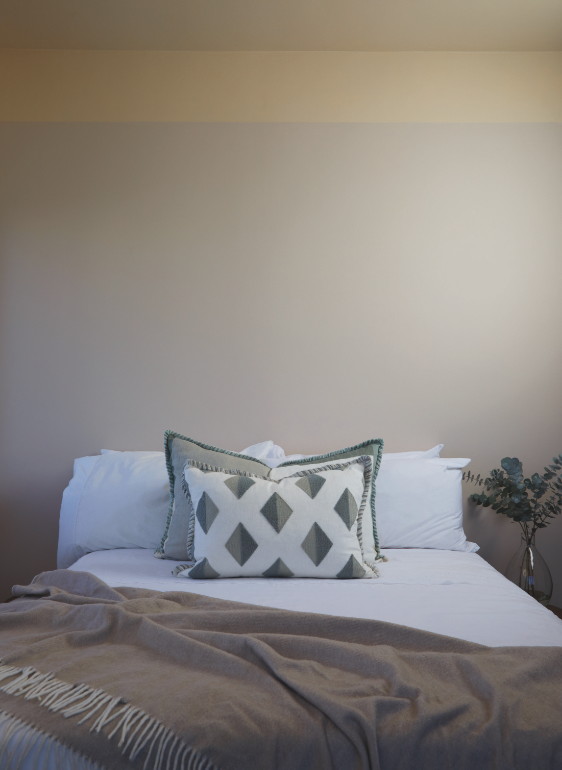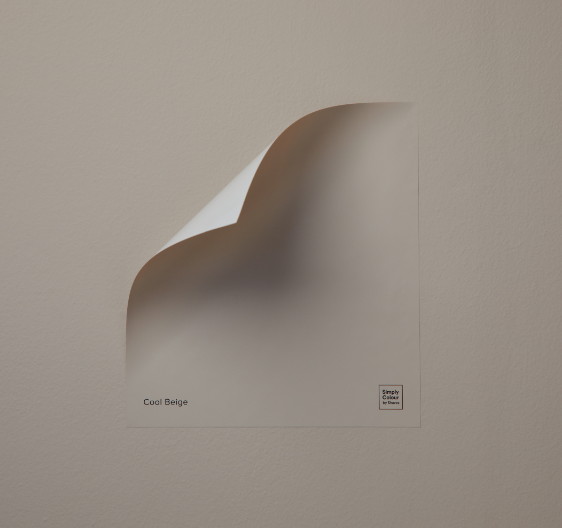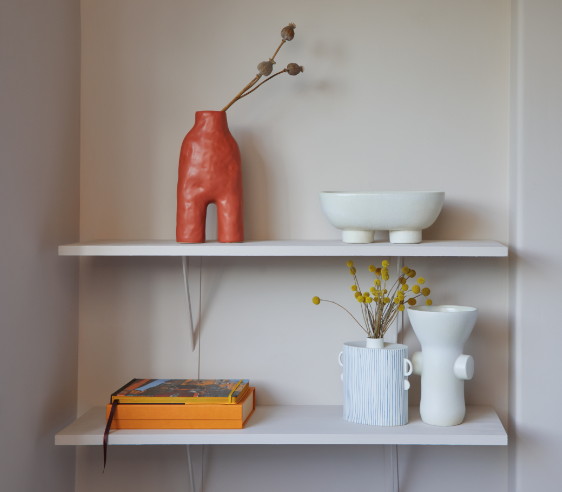 Overrun fun
Another way to make your ceilings really stand out is to opt for a colour overrun and an accent ceiling. In this neutral bedroom, Cool Beige walls are complemented by a Sandy Beige ceiling, spreading ever so slightly over the top section of the walls. The effect is eye-catching, contemporary and a fresh take on what could be considered classic neutrals. The trick is to find a ceiling colour and style to suit the needs of your space, and how you want to feel in it.
Feel inspired to make the most of your ceilings? Start by taking a look at our online colour expert – the easiest way to get three suggested colours to suit your project's needs. And once you've found the frontrunners, place a couple of our peel + stick swatches on your ceiling to observe how they look over time.